Welcome to DU!
The truly grassroots left-of-center political community where regular people, not algorithms, drive the discussions and set the standards.
Join the community:
Create a free account
Support DU (and get rid of ads!):
Become a Star Member
Tommy Carcetti
Tommy Carcetti's Journal

Tommy Carcetti's Journal

November 18, 2019

White House officials stated that the primary focus of President Trump's visit to Walter Reed Army Medical Center Saturday was to visit a service member recently injured in the line of duty.

Officials did admit that a portion of the nearly four hour visit was dedicated to Trump undergoing what they described as "a routine portion of the President's annual physical"--namely a measurement of his height. They stated doctors remain to recall the President to their hospital at own discretion on an ongoing basis to obtain other vital signs, such as temperature, blood type, nasal and ear canal cleanliness, intestinal appendix functioning levels and other measurements intended to get a fuller picture of his overall health for his yearly physical report.

However, officials insist that the majority of the time Trump spent at Walter Reed was to visit an injured serviceman, Staff Sergeant George George Glass.

"Sergeant Glass was wounded by sniper fire in Kandahar Province," the spokesperson said. "Normally, we don't release details of these highly classified missions, but President Trump insisted Sergeant Glass's bravery not be hidden from public view."

The spokesperson then stated the purpose of the mission was to investigate a potential link between Hunter Biden and Al Qaeda operatives. The link became known after former New York Mayor Rudy Giuliani, husband-and-wife attorneys Joseph DiGenova and Victoria Toesing, and former columnist for The Hill John Solomon spent the past several weeks in the Kybher Pass region meeting with former Taliban leadership.

Trump told White House insiders his nearly three hour, forty-five minute meeting with Sergeant Glass went very well.

"Upon entering the room, President Trump found Sergeant Glass smiling and wearing a red 'Make America Great Again' baseball cap," the spokesperson said. "Sergeant Glass then repeatedly thanked President Trump for many, many things, such as securing the southern border, taking a hard line on Chinese trade, reducing African-American unemployment to a historic low, exiting the onerous Paris Climate Treaty agreement, tackling new infrastructure projects on a near-weekly basis and draining the swamp."

The spokesperson added, "At one point, a tearful Sergeant Glass looked President Trump straight in the eye and told him, 'Sir, whatever you do, don't let the Deep State destroy you, sir. Sir, you do whatever it takes to bring those bastards to justice for this coup of an impeachment sham that Shifty Shiff and Nasty Nancy have going on in the House, sir.'"

At that point according to White House officials, President Trump pulled out the Presidential Medal for Honoring Bravery in Service Animals that he had originally intended to present to Conan, the service dog assigned to the Delta Force squadron responsible for killing former ISIS leader Abu Bahk al-Baghdadi and instead placed it around Sergeant Glass' neck, noting, "It looks very good on you. It would look good on me, too. You know, I always wanted one of these myself, you know? Maybe I should do that. Maybe I should give myself a medal and wear it around wherever I go. Boy, I bet that would drive the people in the fake news crazy. Fake News!"

When pressed by the media for any proof that this meeting actually took place at Walter Reed and for proof that a Staff Sergeant George George Glass actually exists--noting that such a name mirrored the exact plotline of the Season Two, Episode Nine of The Brady Bunch titled "The Not So Ugly Duckling"-- the White House Spokesperson responded, "You know, that's a very good question. We're going to look into that, and we should have a response for you as soon as we want to give you one."

DETAILS AT ELEVEN


November 15, 2019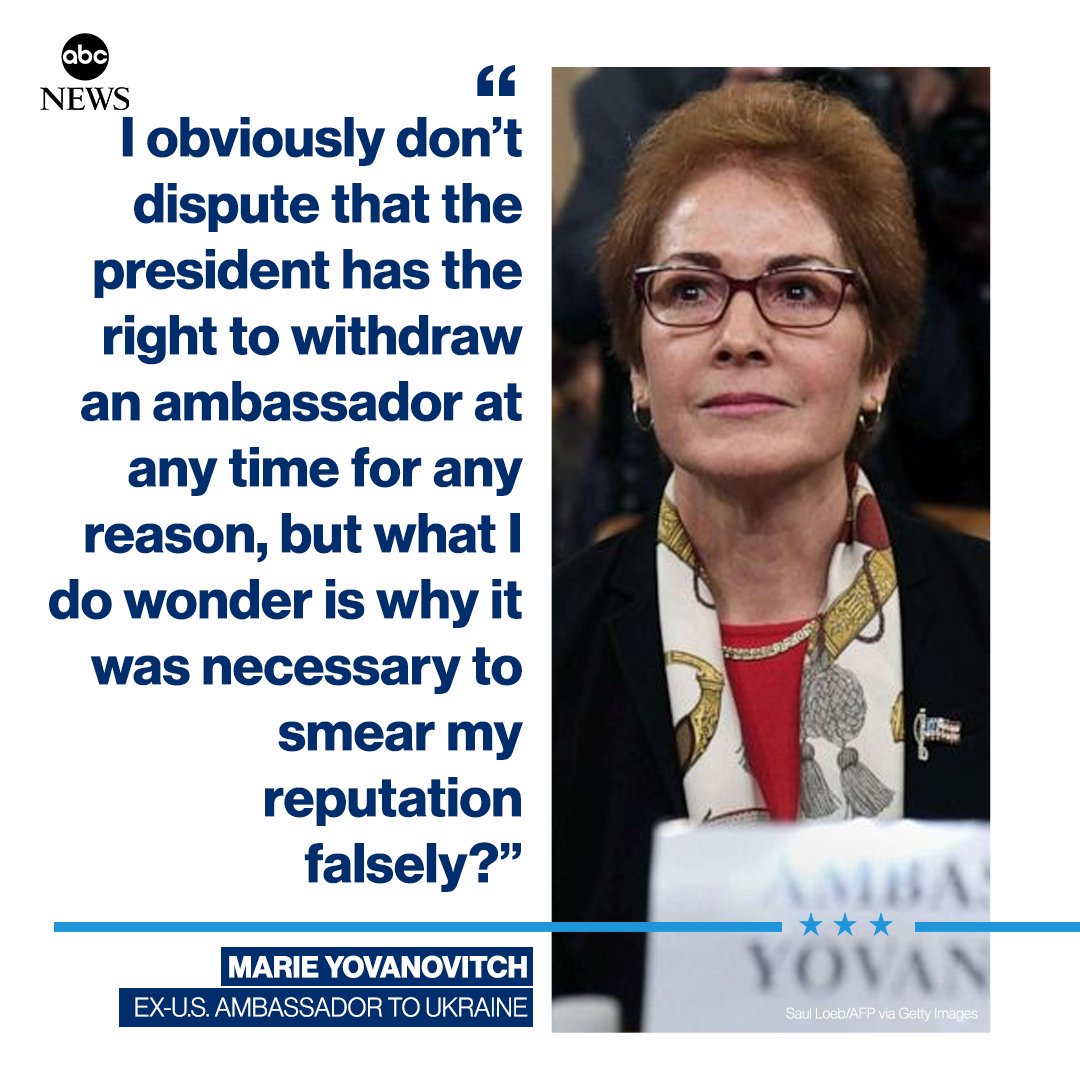 Bravo, Madame Ambassador.
And thank you.
November 14, 2019
"Mr. Giuliani is a highly respected man. He was the mayor of New York City, a great mayor, and I would like him to call you. I would ask him to call you along with the Attorney General. Rudy very much knows what's happening and he is a very capable guy. If you could speak to him that would be great."
Memorandum of Telephone Conversation, July 25, 2019 between Donald Trump and Volodmyr Zelensky
https://www.politico.com/story/2019/09/25/trump-ukraine-phone-call-transcript-text-pdf-1510770
In a rush to defend Donald Trump against allegations of quid pro quo, bribery, extortion, abuse of powers, and everything else under the sun as it pertains to the impeachment saga now brewing in the House, Republicans and supporters of Trump have tried to throw just about all arguments against the wall to see what sticks.
Whether it be making arguments of "double/triple hearsay" or questioning when the Ukrainians knew their military aid was being delayed or claiming that Zelensky wasn't pressured by Trump or attacking and unmasking potential whistleblowers or even attacking the patriotism of some of the witnesses such as Lieutenant Colonel Vindman (yes, really!) they are doing all they can to muddy the waters as much as possible.
But if we want to get down to brass tacks on the matter, it's really quite simple.
This is really just a matter of one thing: Abuse of power.
Namely, that a President should not be able to use the powers of his public office for personal or political gain. That's a principle as old as this country, to try to fend against autocracy.
Trump's rather ridiculous defense to his actions is that in raising issues to President Zelensky, he was merely acting in the interest of the US Government in the hopes of rooting out corruption in Ukraine.
And corruption in Ukraine is indeed an actual problem, as it is all the post-Soviet states. Even as someone who has roots in Ukraine and family living there, I'm not blind to admit that fact.
The problem is, Trump identified only two acts of supposed "corruption." The first was some absurd conspiracy theory about Crowdstrike and the DNC and the 2016 elections that--once you read into it--makes no sense whatsoever. And the second is attacks against Hunter Biden, Vice President Biden's son who had served on the board of a Ukrainian company Burisma that at one point had been investigated by the Ukrainians for corrupt practices. The problem there is no one--and I mean no one--has ever actually alleged that Hunter Biden specifically did anything wrong. And when it comes to Vice President Biden, Trump and others willingly misstate the facts and distort a timeline to claim that Biden himself pressured the Ukrainian government to remove a prosecutor general who had investigated Burisma (he hadn't--Biden's statements were part of US policy as well as that of the EU and IMF, and the prosecutor general who was removed actually had let the Burisma investigation drop, so.....)
The fact of the matter is that Trump doesn't care about Ukraine. He views them with a suspicious eye because he blames them for the conviction of his campaign manager Paul Manafort, who had been paid millions under the table out of money raided from the treasury by the corrupt ex-President Yanukovych. He's more than happy to repeat Putin's talking point that Ukraine supposedly isn't even a real country. Bottom line is that the only way he would ever care about Ukraine is if they did him a personal favor.
So he doesn't care about actual corruption in Ukraine. He's not worried about what company got the paving contract for the highway between Lviv and Ivano Frankivsk, or why.
He only cares about dirt on Biden and the DNC. He's a simple man like that.
But how can we prove abuse of power?
Well, it's easy. Incredibly easy. Ridiculously easy, even.
Trump says "Read the Transcript"? Well, to the extent the memorandum released could constitute a "transcript", then fine. We can do just that.
And the one thing that definitely proves that Trump was acting in his own personal interest in making demands on Zelensky, as opposed to the interests of the government? One guy.
Rudy Giuliani.
Trump's personal attorney. And the person he directed Zelensky--the Ukrainian President--to speak to as it pertains to these matters.
That ends all debate right there. Because there is no excuse for a President to be using his personal attorney to conduct foreign policy with foreign leaders.
None whatsoever. Abuse of Power. Case closed.
Rudy Giuliani has no foreign policy experience. He has no diplomatic experience. He has no expertise on Ukrainian or Eastern European affairs. He doesn't speak Ukrainian or Russian. He's not from the region. His only two contacts to the region are two personal friends who have recently been indicted for fraudulent business practices. He doesn't have the proper security clearances and has never been appointed to any official position.
He's the President's
personal
attorney.
That is an absolutely ridiculously huge conflict of interest.
Someone like Rudy Giuliani should never in a million years be placed in the position of handling US foreign policy.
It's laughably absurd.
So why then did Trump do just that, if not to abuse his position as President to try and gain a personal political advantage?
Ask any Trump supporter to give you a straight answer. And they won't be able to. (Believe me, I've already tried.)
"Why Giuliani?"--Abuse of Power.
Case closed.
Profile Information
Member since: Tue Jul 10, 2007, 02:49 PM
Number of posts: 42,825