Page: 1
Celerity
Celerity's Journal
Profile Information
Gender: Female
Hometown: London
Home country: US/UK/Sweden
Current location: Stockholm, Sweden
Member since: Sun Jul 1, 2018, 07:25 PM
Number of posts: 39,178

About Me
she / her / hers
Journal Archives
leaving the Primary section. It is simply too toxic, I am being alert stalked and harassed by some of the leading candidates's supporters (hint, not Warren people) and it just isn't healthy for me mentally anymore. I am a tremendously upbeat and dynamic person in real life, but more and more I feel a darkness coming over my countenance and inner core when I log in and start to interact in the Dem Primaries section here.
I am mentally and emotionally exhausted from having to try and attempt to correct the myriad number of spun up false attacks on Buttigieg, very often by accounts that so appear to be simply burner sock puppets, as well as the ultra dodgy, Dem-bashing far left press and their rotters in Tweetland, other social media, and various shitty little corners of the net. It boggles my mind that some of these sites and POS Twitter trolls are allowed to be posted here with impunity. A special big FUCK YOU to TYT btw. What an absolute poisoned chalice of disnfo and
divide et impera
bollocks that utter bawbag of a site is.
Anyway, with that I leave you all to fight the good fight and GO PETE!!!!
cheers,
Cel
Mayor Pete expanded on this in the gaggle:
"I believe every Presidency of my lifetime has been an example of deficits growing under Republican government and shrinking under Democratic government
, but ... my party's got to get more comfortable talking about this issue" "And we shouldn't be afraid to demonstrate that we have the revenue to cover every cost that we incur in the investments that we're proposing."
https://twitter.com/lizcgoodwin/status/1202698158117179393
https://twitter.com/lizcgoodwin/status/1202754855749730309
Buttigieg campaign estimates about 1050 people for Mayor Pete's Exeter townhall right now
"If you'd rather have a private plan that's fine by me as long as you're covered one way or another," Buttigieg says to applause here
https://www.wbaa.org/post/south-bend-african-american-leaders-praise-buttigieg-amid-protests
An event to show support for presidential candidate and South Bend Mayor Pete Buttigieg Wednesday night verged on chaos at moments as a handful of protesters disrupted speakers. The South Bend event was held for local African-American leaders to talk about their experiences with the candidate.
Local city council members and pastors who support Buttigieg expressed appreciation for his administration's efforts to improve the city. One of the speakers, Gladys Muhammad, says she wanted to combat
national media reports
that Buttigieg had no black supporters in South Bend.
"Well there are plenty of people in the community that do support Mayor Pete and we need to change that dialogue," she says.
But while they spoke, protesters holding signs shouted and interrupted with anti-Buttigieg messages. One protester, Igor Rodriguez, even stopped the event when he grabbed the microphone and began chanting "This is a farce." "Who chose these people as the black leaders?" he yelled in the microphone. "Who organized this? We have a police [problem] in this town! Why are we talking about Pete Buttigieg?"
snip
and for all the people getting the vapours over reporters and the Buttigieg campaign saying that some of the protesters were Sanders supporters

well

https://twitter.com/MaxLewisTV/status/1202422061261557760
https://splinternews.com/black-leaders-condemn-attacks-by-sanders-supporters-ami-1838259737
In a draft letter obtained by Splinter on Thursday, dozens of prominent black progressive leaders condemned the "hateful, violent, and racist threats" they said have been leveled by "self-identified [Bernie] Sanders supporters" against black leaders in the wake of the Working Families Party's endorsement of Elizabeth Warren for president.
One of the letter's signatories, Black Lives Matter co-founder Patrisse Cullors, said in an email that the version of the letter obtained by Splinter was not final.
"The WFP made a decision, with its members and supporters and staff, and there is now conflict over the substance of that decision," the letter reads in part.
It continues (emphasis mine throughout):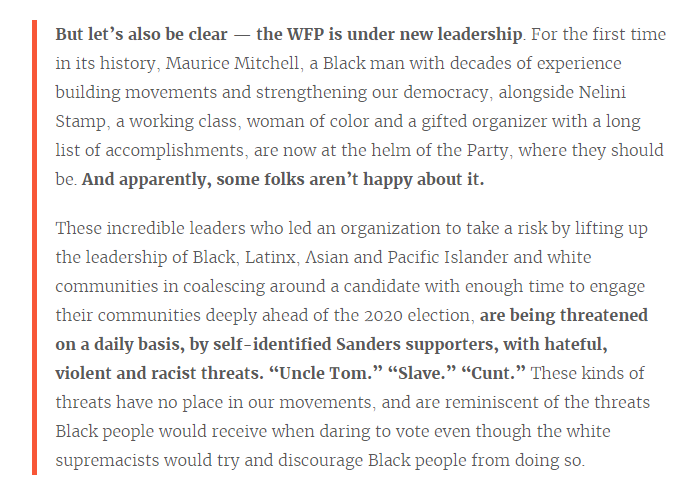 snip
No I did not alter the Google pull HL

https://thehill.com/blogs/blog-briefing-room/news/326820-sanders-defends-trump-voters-i-dont-think-theyre-racists
Vermont Sen. Bernie Sanders (I) on Friday defended voters of President Trump, saying that the election was Democrats' to lose and that the party needs to better represent the working-class voters who supported Trump and other GOP lawmakers
"Some people think that the people who voted for Trump are racists and sexists and homophobes and deplorable folks. I don't agree, because I've been there.
Let me tell you something else some of you might not agree with, it wasn't that Donald Trump won the election, it was that the Democratic Party lost the election,
" Sanders said while speaking at an Our Revolution rally in Boston with fellow Sen. Elizabeth Warren (D-Mass.).
Sanders went on to say that a "fundamental restructuring of the Democratic party" was needed to win future elections and that problems with party's current setup is why many were quick to support Trump in the election, not because of some of the rhetoric on the campaign trail.
"We need a Democratic Party that is not a party of the liberal elite but of the working class of this country, we need a party that is a grassroots party, where candidates are talking to working people not spending their time raising money for the wealthy and the powerful," Sanders said. "And when we do that, when we transform the Democratic Party, we transform America."
snip
older article

BUT
https://www.gpbnews.org/post/kelly-loeffler-georgia-s-next-senator
Gov. Brian Kemp on Wednesday named Atlanta businesswoman Kelly Loeffler as Georgia's next U.S. Senator as the Republican party in Georgia seeks to maintain control of two Senate seats, the state House and its presidential vote heading into the 2020 election cycle.
Loeffler will be the second-ever woman to represent Georgia in the Senate, and, if she wins a special election next fall, she will be the first Georgia woman elected to the Senate. In her remarks, she acknowledged that it will take work for her become known to voters in Georgia.
"But here's what folks are gonna find out about me: I'm a lifelong conservative, pro-Second Amendment, pro-military, pro-wall and pro-Trump," she said. "And I make no apologies for my conservative values, and will proudly support President Trump's conservative judges."
It's been three months since Johnny Isakson announced he would step down from office at the end of 2019 due to health concerns. In that time, Kemp asked for input from interested parties through a public application portal and sought to develop a shortlist of applicants that would reflect his commitment to appointing people of diverse and non-traditional backgrounds to government posts.
snip
https://theconversation.com/global-emissions-to-hit-36-8-billion-tonnes-beating-last-years-record-high-128113
Global emissions for 2019 are predicted to hit 36.8 billion tonnes of carbon dioxide ( CO₂ ), setting yet another all-time record. This disturbing result means emissions have grown by 62% since international climate negotiations began in 1990 to address the problem. The figures are contained in the Global Carbon Project, which today released its
14th Global Carbon Budget
.
Digging into the numbers, however, reveals a silver lining. While overall carbon emissions continue to rise, the rate of growth is about two-thirds lower than in the previous two years. Driving this slower growth is an extraordinary decline in coal emissions, particularly in the United States and Europe, and growth in renewable energy globally. A less positive component of this emissions slowdown, however, is that a lower global economic growth has contributed to it. Most concerning yet is the very robust and stable upward trends in emissions from oil and natural gas.
Coal is king, but losing steam
The burning of coal continues to dominate CO₂ emissions and was responsible for 40% of all fossil fuel emissions in 2018, followed by oil (34%) and natural gas (20%). However, coal emissions reached their highest levels in 2012 and have remained slightly lower since then. Emissions have been declining at an annual average of 0.5% over the past five years to 2018.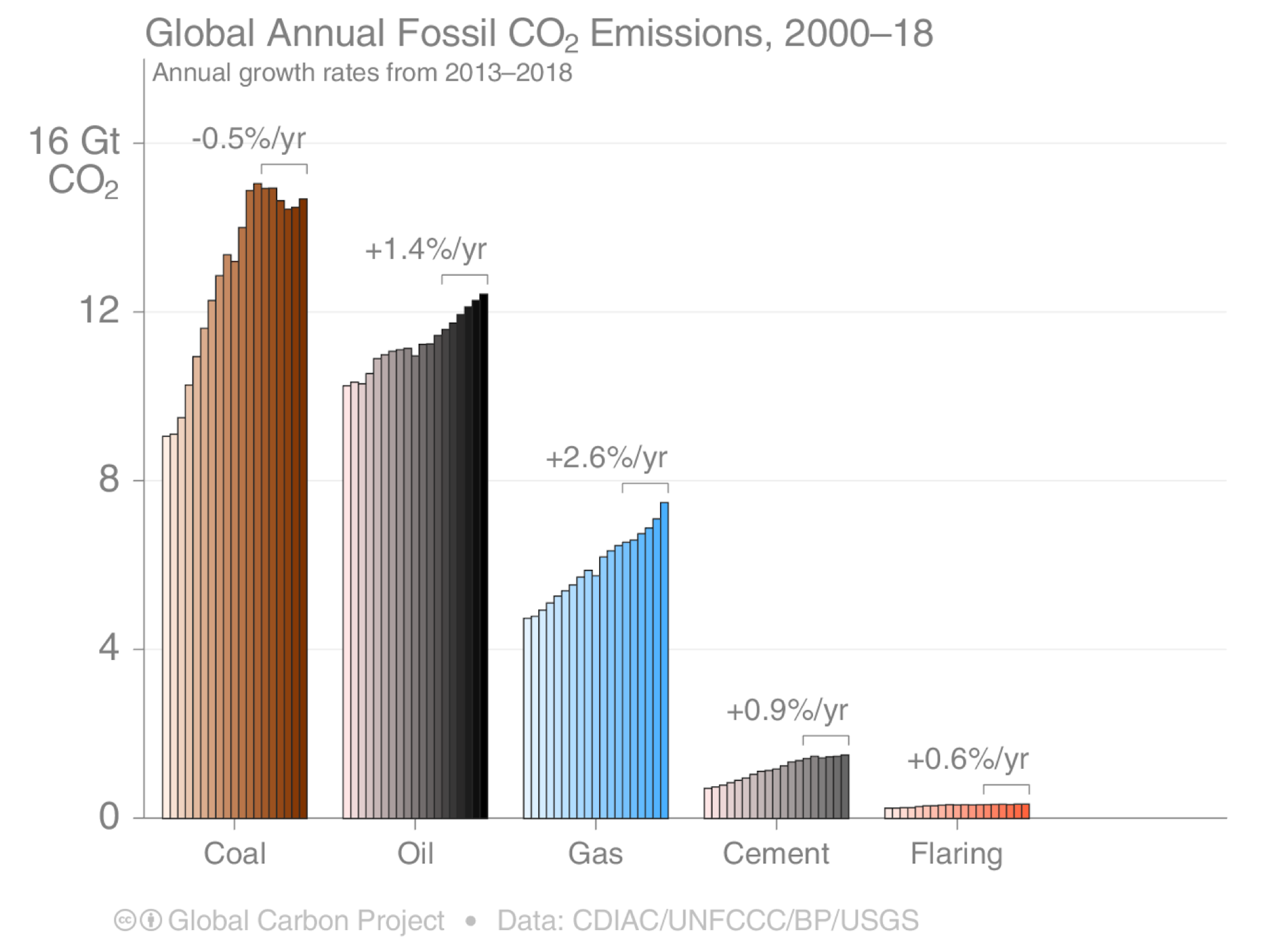 In 2019, we project a further decline in global coal CO₂ emissions of around 0.9%. This decline is due to large falls of 10% in both the US and the European Union, and weak growth in China (0.8%) and India (2%). The US has announced the closure of more than 500 coal-fired power plants over the past decade, while the UK's electricity sector has gone from 40% coal-based power in 2012 to 5% in 2018. Whether coal emissions reached a true peak in 2012 or will creep back up will depend largely on the trajectory of coal use in China and India. Despite this uncertainty, the strong upward trend from the past has been broken and is unlikely to return.
snip
so utterly tragic, suicide by train

https://www.miamiherald.com/news/local/obituaries/article237935779.html
Alejandra Agredo, whose command of transit policy and wry takes on its failings and potential in Miami-Dade County earned the attention of government and nonprofit leaders, died Nov. 26, her father said Monday. She was 17. A well-known voice among Miami-Dade policy makers and advocacy groups involved in transit, Agredo used her Twitter feed to demand better from the county's transportation system and showed up at city halls and county meetings to press her case in person.
In October, she launched a new nonprofit, the Miami Riders Alliance, with a stated mission to unite Miami's bus, train and bike riders in a fight "for safe streets and reliable transit." For fun, Agredo would take round trips on county buses and Metrorail trains to absorb more details about how Miami-Dade moved people. "She would ride transit to ride transit," said Kevin Amézaga, also 17 and a fellow founder of the Riders Alliance. "She just liked seeing how the system worked."
Among Agredo's side projects were a redesigned county transit pass with a mini rail map she created, and developing open-source software to track all of South Florida's transit options, including city trolleys , Tri-Rail and Brightline. The early phases of that effort are available at wayline.co, a website she developed. "Wayline will reinvent South Florida commutes," the site states. "Get out of your car." "She didn't want people to be left out of life because they didn't have access to transit," Amézaga said. "She really liked the idea of connecting everybody in Miami, because we're all the same."
News of Agredo's death became public Saturday, prompting a string of praise and remembrances from county office holders, community activists and everyday transit riders who became fans of Agredo's @VirginTrainsMIA Twitter account.
snip
her last Tweet

https://twitter.com/VirginTrainsMIA/status/1199482255288258560
Miscalculations, and an unexpected victory by President Trump, have put abortion access at its most vulnerable point in decades, and the left on the defensive. Now it is trying to recover.
https://www.nytimes.com/2019/12/01/us/politics/abortion-planned-parenthood.html
ATLANTA — The pin was small, and rusted on the back. Sharon Wood had packed it away in 1973 as a relic of a battle fought and won: the image of a black coat hanger, slashed out by a red line. Then this spring, her home state, Georgia, joined a cascade of states outlawing abortion at the earliest stages of pregnancy. Ms. Wood did what she never imagined she would need to do again. She dug it out, and pinned it on. "Don't ask me how it all happened," Ms. Wood, 70, a retired social worker northeast of Atlanta, said one Sunday afternoon, the pin on her dress. "I know so many people who said they woke up when Trump was elected. Well, they shouldn't have been asleep."
For years, abortion rights supporters like Ms. Wood believed the 1973 Roe v. Wade Supreme Court ruling had delivered their ultimate goal, the right to reproductive choice. Now, they are grappling with a new reality: Nationwide access to abortion is more vulnerable than it has been in decades. In a six-month period this year, states across the South and Midwest passed 58 abortion restrictions. Alabama banned the procedure almost entirely. Lawmakers in Ohio introduced a similar bill shortly before Thanksgiving. And in March, the Supreme Court will hear its first major abortion case since President Trump added two conservative justices and shifted the court to the right; how it rules could reshape the constitutional principles governing abortion rights.
For abortion opponents, this moment of ascendancy was years in the making. Set back on their heels when President Barack Obama took office, they started methodically working from the ground up. They focused on delivering state legislatures and gerrymandered districts into Republican control. They passed abortion restrictions in red states and pushed for conservative judges to protect them. And then unexpectedly, and serendipitously, Mr. Trump won the White House. Ending legal abortion appeared within their reach. As Planned Parenthood and its progressive allies have rallied the resistance, the shift in fortunes in the abortion wars has been mostly attributed to the right's well-executed game plan. Less attention has been paid to the left's role in its own loss of power.
But interviews with more than 50 reproductive rights leaders, clinic directors, political strategists and activists over the past three months reveal a fragmented movement facing longstanding divisions — cultural, financial and political. Many said that abortion rights advocates and leading reproductive rights groups had made several crucial miscalculations that have put them on the defensive. "It's really, really complicated and somewhat controversial where the pro-choice movement lost," said Johanna Schoen, a professor at Rutgers University who has studied the history of abortion. National leaders became overly reliant on the protections granted by a Democratic presidency under Mr. Obama and a relatively balanced Supreme Court, critics say, leading to overconfidence that their goals were not seriously threatened. Their expectation that Mr. Trump would lose led them to forgo battles they now wish they had fought harder, like Judge Merrick B. Garland's failed nomination to the bench.
snip
Uncharted Territory on Abortion Politics
Abortion rights groups responded to our story, claiming political momentum heading into 2020.
https://www.nytimes.com/2019/12/02/us/politics/on-politics-abortion-2020.html
If you saw "On Politics A.M." this morning or the front page of Monday's newspaper, you probably saw our big project taking stock of the abortion rights movement.
The story
was the culmination of three months of reporting by Elizabeth Dias and me that included a lovely road trip down I-20. Because I cannot seem to stop working with Ms. Dias, I roped her into writing the newsletter with me today. Our central idea: Abortion is like no other issue in American political life, planted at the intersection of health care, culture, science and morality. And, right now, abortion rights are under attack like never before. Democrats say public opinion still sides with abortion rights. They cite recent electoral victories, big fund-raising numbers and the energy of "pussy hat"-wearing protesters.
Yet, over the past year, state after state has passed new restrictions, making it harder to get an abortion in some places than at any point since Roe v. Wade legalized the procedure in 1973. By many indications, the left is losing this fight. The advances of the right have been well documented. So our story focused on recent missteps and miscalculations made by abortion rights groups. But most of the reaction to the story today centered not on the financial and cultural challenges within the movement, but on what everyone is focused on these days: 2020 politics. On Twitter and in our inboxes, national abortion rights organizations argued that we had understated their political strength and popular support heading into a big election year.
The reality is that when it comes to abortion politics, we are moving through uncharted waters. In 2016, Hillary Clinton dispensed with her party's long-held line that abortion should be "safe, legal and rare." Donald J. Trump, who once described himself as "very pro-choice," leveraged Mrs. Clinton's position to motivate socially conservative voters. Two years later, the confirmation of Justice Brett Kavanaugh to the Supreme Court helped Republicans hold the Senate in the midterm elections. Now, Mr. Trump is seen as one of the most effective anti-abortion presidents in history, with social conservatives firmly in his camp. Over the same period, Democrats used support for abortion rights as part of a platform to motivate energized, anti-Trump suburban voters, taking control of the House in 2018 and flipping seats in local elections last month. Those state and local victories have led abortion rights advocates to argue that they're winning the electoral fight.
Take what Alexis McGill Johnson, the head of Planned Parenthood, tweeted in response to our story today:
https://twitter.com/alexismcgill/status/1201331453398863872
But some moderate Democrats — and certainly Republicans — say the party and national abortion rights groups have moved past public opinion. That's the view we frequently heard from voters, independent clinic owners and local activists in our reporting from swing states. In Georgia, Eugenia Johnson, who was attending a conference for millennial, African-American church leaders last summer, said she supported abortion rights but wished Planned Parenthood would move away from what she said was a simplistic message. "To get the buy-in of faith-based believers, they could acknowledge that abortion is a traumatic experience for some women, sometimes they regret it," Ms. Johnson said. "So they don't seem so left-sided."
snip